Immediate Area
Walking/Hiking -Maison Pouyteaux is surrounded by vineyards, fields and forests, all beckoning for the outdoor enthusiast to explore. As in the rest of France, there are rural pathways between every vineyard that are open to the public. Walk out the front door and there are countless trails and pathways going in every direction. There are vineyards to explore, forests to enter, and an incredible varied rolling countryside all about. Great for the serious hiker/walker, but also fun for children to explore.

Shopping 
The village of Loubès Bernac is 3km away, with its own small market for necessities and a boulangerie dépôt. There is a lovely small restaurant, church, and post office.

Pineuilh, 10 minutes away by car, has an E. Leclerc supermarché for anything you might need.

Weekly Markets
A great way to get the feel of a village - they bustle and come alive on market days. The weekly markets are generally open from 8am to noon.
SATURDAY:
Sainte Foy La Grande: Only 15 minutes form Maison Pouyteaux (and our favourite) is probably the regions largest and most interesting weekly market - regularly voted one of the finest in the region (French Property News March 2022). Even in winter, the market winds itself around the cobbled streets and becomes a bustling hub in the central town square. There are many stalls of fresh produce, meats and fish, beautiful bread and pastries, clothes and in fact anything you might expect from a village market. All around the town square you can sit and have breakfast or coffee and just experience the atmosphere of the market. There are 40 shops in and around the town (including the regions largest wine shop Cave Laregnere)
Sainte-Foy-la-Grande also has a feature that most of the bastide towns don't, because the Dordogne river runs through the town (Eymet to the east of here shares this honour). This is unusual because bastide towns were more commonly situated on hilltops, hence some distance from larger rivers.
It is pleasant to take a short stroll around the quays or even take a boat trip on the river. There is a small river beach called the Plage des Bardoulets where children can have a paddle.
The region around Sainte-Foy-la-Grande, to the west of the Dordogne and east of Bordeaux, is a region of vineyards and quiet countryside that we found to be an excellent region for cycling.
Bergerac: About 30 minutes drive, this is the largest close town to the house. Bergerac is found on the northern bank of the Dordogne River, in the western part of the Dordogne department. It is among the largest towns in the region and is classified as a town of Art and History.
The highlight of a trip to Bergerac is the old town - the area immediately north of the river, signposted 'vieille ville'. This part of the town has some lovely streets and squares to explore, and a variety of boutique type shops. The old town centres around Place Pelissiere which is a lovely square edged with cafes and restaurants and always full of flowers. 
Visit the Maison de Vins de Bergerac in the heart of the old town. It is a beautiful old cloister dating back to the 12th century. If you are a wine enthusiast there is an exhibition showing the history of Bergerac wines and its 13 appellations.
During the summer there are occasional concerts which take place in the cloister. It is a lovely setting for them and worth going if you get the chance. In December there is usually a small but good quality Christmas Market here with products from local artisans, very useful if you are doing some Christmas shopping.
After exploring Bergerac you can take an organised boat trip - gabare - up the river (start from the car-park at the bottom end of the old-town) to see the town and the nearby countryside from a different perspective. (You can also take the gabare from villages further up the river at Beynac or La Roque Gageac where you will pass various villages and chateaux along the route).
This market is huge, with lots of clothes and local produce, including many local vineyards having stalls here. It is very busy on the Saturday and parking is a premium. We don't think this market is as good as the Ste Foy market, but well worth a visit to the town and restaurants on an alternative day.
If you are travelling to Bergerac with children there are various activities in addition to the many castles and caves of the region. On the Route de Bordeaux near to the large Leclerc supermarket you can find a Bowling alley, a Paint Ball centre, an outdoor Water Park and a little further down the road a go-karting circuit. There is also a large swimming lake called the Lac de Pombonne near to the centre of town. This has lifeguards in the summer and a kiosk selling drinks.
SUNDAY:
Issegeac: about 40 minutes drive through beautiful countryside. Issegeac is a wonderful medieval village which is always particularly popular on Sunday mornings when it hosts one of the best markets in the area. Issegeac is an ancient bastide town known for housing British sympathizers during the 100 years war and also for harbouring Nazis during WWII.
Issegeac doesn't have a readily identifiable 'town centre', rather it is a series of narrow winding streets lined with fascinating ancient buildings. Some of these have been recently restored, others give the impression that they are only standing due to the other houses hemmed in on both sides though these are becoming rare as Issegeac has experienced a surge in popularity and many houses have been bought and beautifully renovated. 
Many of the buildings are in whole or in part constructed in colombage (half-timber), and several have interesting carved features. In particular keep your neck craned upwards to see the 'Maison des Têtes', on the corner of the Grand Rue, with some very ancient carved heads on its upper level.
In July and August there is a Marché nocturne, a night-time market every Thursday evening from 7 o'clock. This takes place in the square in front of the church. Tables are put out and you can buy everything you need for your evening meal and sit in the square to eat it.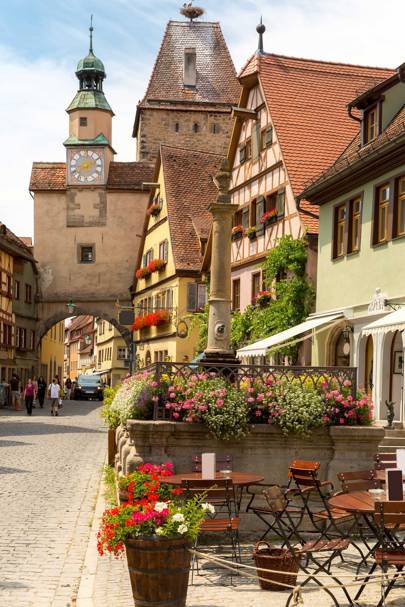 MONDAY:
Duras: About 20 minutes drive from the house. Duras is quiet and its one main sight that attracts visitors is Chateau de Duras – A true medieval castle and XVIII century mansion with over 30 rooms, this Château is set up to help you discover the rich history of the Dukes of Duras and the various conquests of the castle over the centuries. As with many French castles it suffered important damage at the time of the revolution, but the second half of the 20th century has seen the castle substantially renovated with many luxurious touches being added in the process. It is possible to take in the castle in the morning, followed by a leisurely lunch at La Terrasse Restaurant in Duras, making for a great outing.
Duras is also, of course, well known for its wines and no visit would be complete without taking a couple of bottles home with you. Much the best place to start your researches is the Maison des Vins in Duras itself which stocks a very large range of local wine and also features an exhibition about the local wine industry, and an interesting garden where you can see various vines and learn about the differences between them.
There are also a good selection of restaurants in the town where you can enjoy a meal accompanied by one of the local Duras wines.
There are several banks in Duras and whilst the weekly market is small it has most of what you might need.   
WEDNESDAY:
Bergerac again.
THURSDAY:
Eymet: Again 20 minutes away from the house, through country lanes. With an attractive and thriving central square and a surrounding grid of straight roads. Eymet has beautiful cobbled streets and lanes, with beautiful architecture and it is in a pretty location on the banks of the Dropt river. 
Many of the houses in the central square, called the Place Gambetta, still have the medieval arcades at ground floor level that once provided shelter to the market traders. These arcades are very well preserved here, among the best of the bastides in the region. There is a large stone fountain in the centre of the square. Other notable buildings in Eymet include the tower, gateway and ruins of the original castle. Bastide towns do not usually have a castle, but in Eymet there was a castle here from the 13th century and the bastide was built next to it.
Next to the castle there is a park with lots of shade, so ideal for a picnic. You can also see parts of the 14th century ramparts in the town, and a large 19th century church.
There are several restaurants to choose from in Eymet if you are here at lunchtime, otherwise just do as everyone else does and sit at a cafe and take in the atmosphere.
Eymet is a very British French town with a fairly large weekly market even in winter. Several stalls have British foods in case there is something that you can't live without during your stay!  
Each village comes alive on market day with many vendors selling all manner of food, clothes and housewares, not to mention the village shops which are all open on market day.
Night Markets
During the summer months, the region's villages sponsor night markets. Many of the local villages have these night-time markets and there is a great atmosphere. Typically you can choose foie-gras or melon or salad for starter, then wander round the other stands where the main course choices are things like paella or lamb stew or sausage and chips. Deserts will usually include crepes - a big local favourite. (Paper plates and plastic cutlery are all provided - though many people take their own!). Another stall sells wine and they open the bottle and give you plastic cups to drink from. Basically you don't have to bring anything and can sit outside and enjoy a very reasonably priced meal. Many have live music and dancing into the wee hours.
Wineries
There are numerous wineries close by in the Bordeaux, Bergerac and Duras appellations.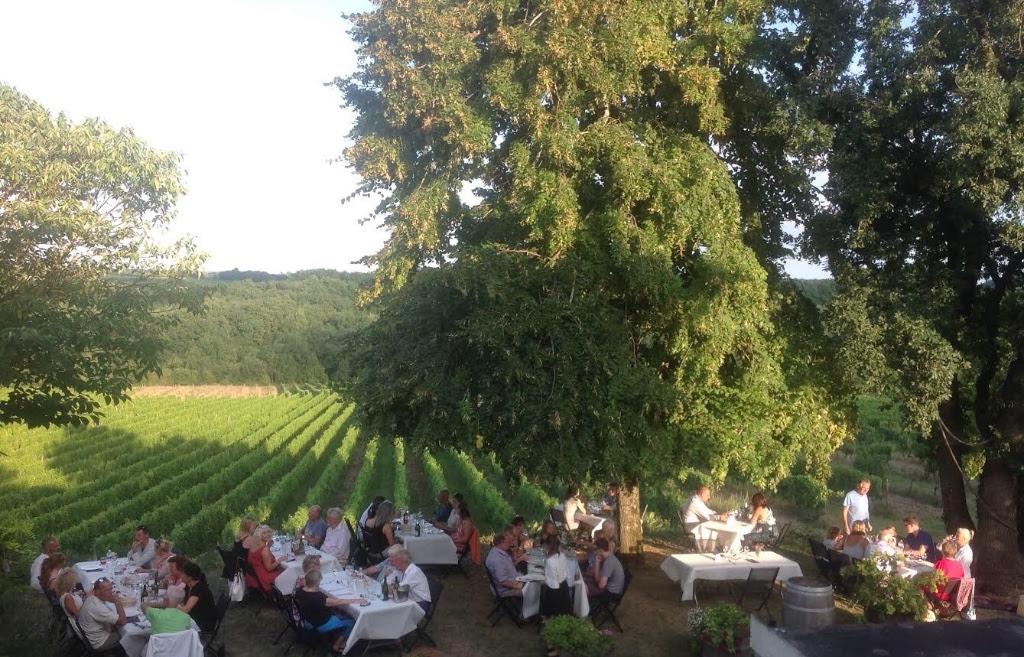 Tours and tasting sessions can be organized. Many wineries have special evening degustation dinners where they showcase their wines with fabulous dinners catered by local producers under the stars, many times with local music always with great fun. In early October, several local wineries organize hand picking of the grapes, a truly memorable occasion!


Bicycling
The great thing about our location is that we are on a quiet country lane far from traffic. It is possible to get on a bike and go many kilometres in any direction and see few if any motorized vehicles. Around every corner, over every hill is beautiful countryside, a feast for the eyes. We have created bike routes for all levels of cyclists, from families with small children to the serious road biker. Many different styles of bicycles are available for rent from a local outfitter, and we would be glad to help organize delivery.
At Goodturn Cycles in Eymet, they specialise in the hire of electric bikes and will deliver to the house. www.goodturncycles.fr  

Golf 
The world famous Château des Vigiers Golf Course is just a few minutes from Maison Pouyteaux. Château des Vigiers forms the centre-piece of a spectacular 27-hole golf course. The course opened in 1992 and was designed by Donald Steel, who is considered one of the very best "natural" golf course architects. Arranged in three 9-hole loops, giving three 18-hole combinations, the golf course was rated in the top ten courses in South West France. Other golf facilities include a 6-hole academy course, a covered driving range, practice greens and bunkers as well as resident golf Professionals, making Vigiers an ideal place to begin or improve your game. There is also a spa here and very popular restaurant - booking advised.
Climbing
There are three climbing gyms (Structures Artificielles d'Escalade) in Bergerac. https://www.gralon.net/mairies-france/dordogne/equipements-sportifs-structure-artificielle-d-escalade-24037.htm
Plum Village 
Forty-five years ago this Buddhist sanctuary and meditation centre came into being. Plum Village is a Buddhist meditation centre of the Order of Interbeing in the Dordogne, southern France. It was founded by two Vietnamese monastics, Thích Nhất Hạnh and Chân Không, in 1982. Plum Village has three campuses, the nearest of which is in Thenac, a five minute drive from Maison Pouyteaux. They have many meditation retreats and are open to visitors. https://plumvillage.org/

Places to eat 
Restaurants are generally open noon–14h00 for déjeuner and 19h00–21h00 for dinner. Lunches are particularly good value since Napoleon decreed an affordable midday meal for the working person over 100 years ago. It is possible to get 4-5 course meals with wine for less than 15 Euros!
Nearest restaurants
En Toute Simplicité is a lovely little restaurant in Loubès Bernac (3km) and is open for lunch and dinner https://www.facebook.com/restaurantentoutesimplicite/
Les Fresques at Château des Vigiers in Monestier, a Michelin star restaurant, is a true gourmand's delight. Be sure to make reservations beforehand. https://vigiers.com/fr/restaurant-etoile-michelin-dordogne.php

Famille Moutier – in Monestier (2.6km), its claim to fame is a seven course dinner with wines paired for each course, a truly fabulous way to enjoy a grand French countryside evening.https://www.famillemoutier.com/
Le Realis de Monestier is another restaurant in Monestier, just 2.5km away. Simple menu, simple food perfectly prepared and cooked. Details on Facebook. Call +33 553 58 1390.
The Walnut Restaurant in Eymet is a beautiful, family owned and operated restaurant and it prides itself on great service, a warm atmosphere and delicious food. Caters for vegetarian and vegan - just let them know when booking for vegan menu. www.walnutbistro.com 
The Bombay Busserie - is a mobile curry takeaway that visits local villages. On a Friday or Saturday they are at Allemans-du-Dropt in the town square. You can't miss them because of the queue. The lovely Guy and Sara will cook your meal to order, and while you wait the local pub is just across the road; you can sit here and eat your meal and order wine to go with! Please look them up on Facebook to see where they will be on a weekly basis - also get there early as they sell out very quickly.
Farther Afield
The principal local highlights include a Roman villa at Montcaret where we thought the mosaics in particular were very impressive, and the Chateau de Montaigne, which we were less impressed by but we have to admit to not being great students of Michel de Montaigne.
We strongly recommend a visit from here to the world heritage site village and vineyards of Saint-Emilion , and Sainte-Foy-la-Grande is also well placed to explore the quiet Dropt valley.
Saint Émilion (38km) is a lovely village going back to prehistoric towns, with lovely Romanesque churches and ruins stretching all along the quaint and narrow streets. As an active center of viticulture, local winery and degustation tours are available.

Bordeaux (68km) is one of the fastest growing and exciting cities in Europe. It is well worth a day trip to visit La Cité du Vin, a new interactive museum dedicated to wines from across the world, to shop along Rue St. Catherine, to have lunch in any of the many wonderful cafés that line the streets, or just to wander through the streets of this magical city. The world renowned Bordeaux Opera House is home to many arts performances and is worth a trip just to look and admire. It is an hour train ride through beautiful French countryside from Sainte Foy la Grande, with trains running once an hour for most of the day. Lost in Bordeaux is a great website for exploring what is going on in Bordeaux.

Arcachon (116km) dates back to Napoleon's reign and is considered by many to be the nicest swimming beach along France's Atlantic coast. It is dominated by Europe's largest sand dune, Dune de Pilat, nearly 3km long, 500m wide and 110m high, a true spectacle and geologic wonder.

Paris (587km) has for years considered itself the cultural capital of Europe. With the advent of the new TGV line, it is an easy and quick two hour train ride from Bordeaux for a quick overnight excursion. Booked in advance, tickets are as low as 32 Euro.